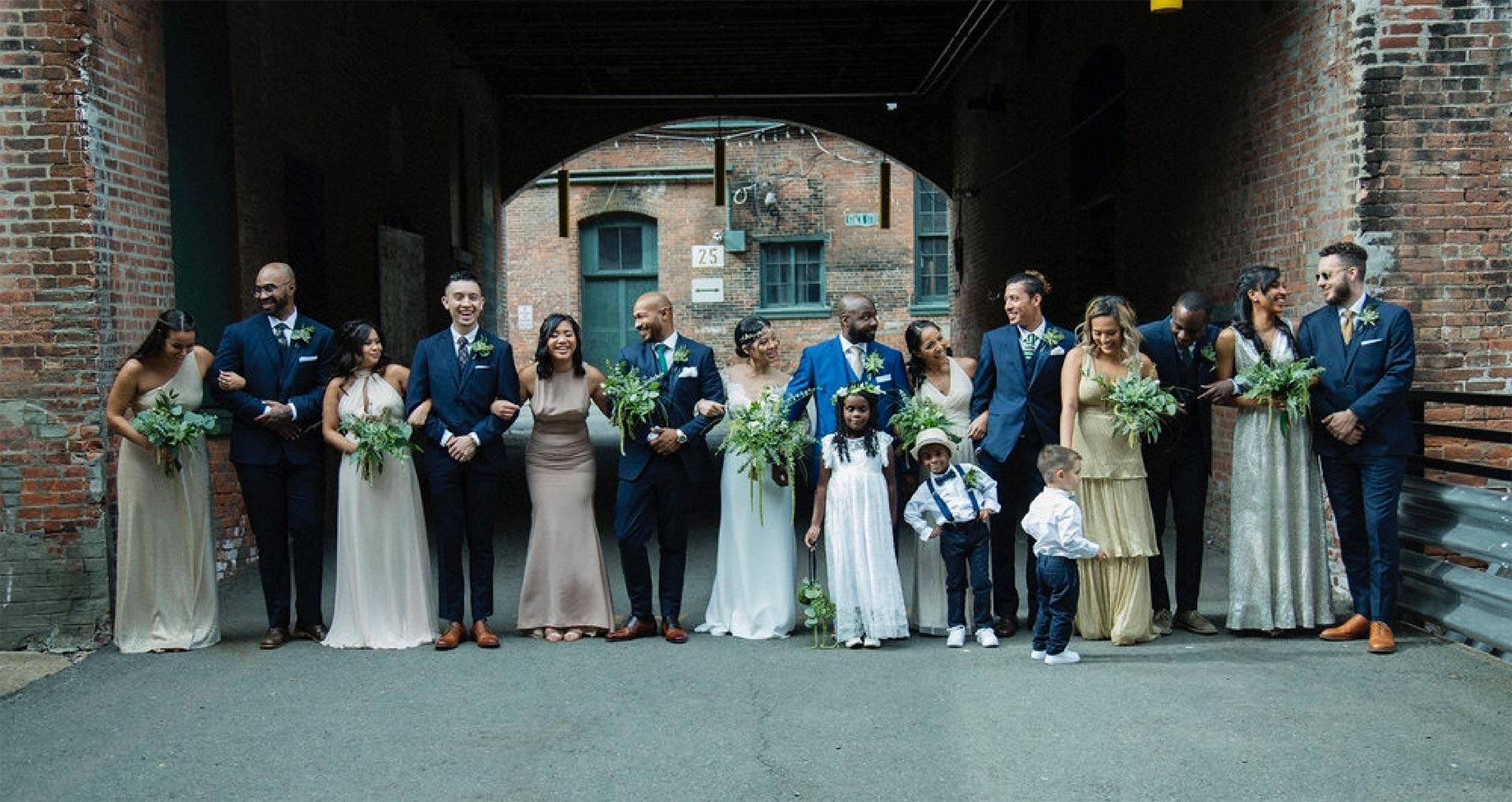 CULTURE
|

COMMERCE

|

COMMUNITY
Field Wedding
"When it came to planning our wedding, getting married at Dyeworks was the best decision we ever made! The eclectic and historic space was the perfect backdrop to create an unforgettable and immersive experience for our guests. And the proximity to fresh and delicious craft beer couldn't be beat! We love seeing all of our guests' photos from around the property. It's clear that they were as captivated by the architecture, art, and charm of Garner as we were. Working with GHD management and staff was a delight; they could not have been more accommodating, welcoming, or responsive. During the whole process, we really felt part of an incredible community of artists and innovators. We wanted a one of a kind wedding and in the end, our guests and vendors were all blown away by the experience. My husband and I will always treasure starting our married life at Garner!
We opted to have the in-house curator, Jonathan Shorr, work with us to enliven and personalize our event space with art from the GHD collection. He took care of hanging and lighting some gorgeous pieces by Frank Welles that added an extra level of texture, color, and warmth to the space.
We also chose to rent the airy and vibrant Frank Welles Gallery to gather with immediate family before the ceremony. I can't suggest this enough. The space itself has great energy and incredible natural light for photos and was a lovely place to relax before the festivities began."
Hudson Valley Pattern for Progress
"Pattern for Progress has held numerous events over the last few years within the GARNER Historic District. Let me start by acknowledging the extremely friendly and knowledgeable staff who helped us along the way. From questions on vendors to recommended local food establishments – they were spot-on in their recommendations.
Most recently we hosted a small intimate gathering in "Brick Alley" – the space was perfect in size, location and most of all ambiance. We felt as if we were transported to another place and time and as dusk approached and the string lights became more visible it was a magical place. We are already planning on coming back!
We also hosted a meeting of design, planning and other professionals in the "Dye Works Event Space". To be able to host an event in such a "unique" and energetic space was just what we were looking for. Everything was professionally done, from the linens on the tables to the set-up of the space. The room was filled with tons of natural light and was the perfect space to gather and brainstorm.
If you are looking for a historical, unique space that is filled with energy and passion around every corner the GARNER Historic District is the place for you!"
– Robin DeGroat
Vice President for Operations
Hudson Valley Pattern for Progress