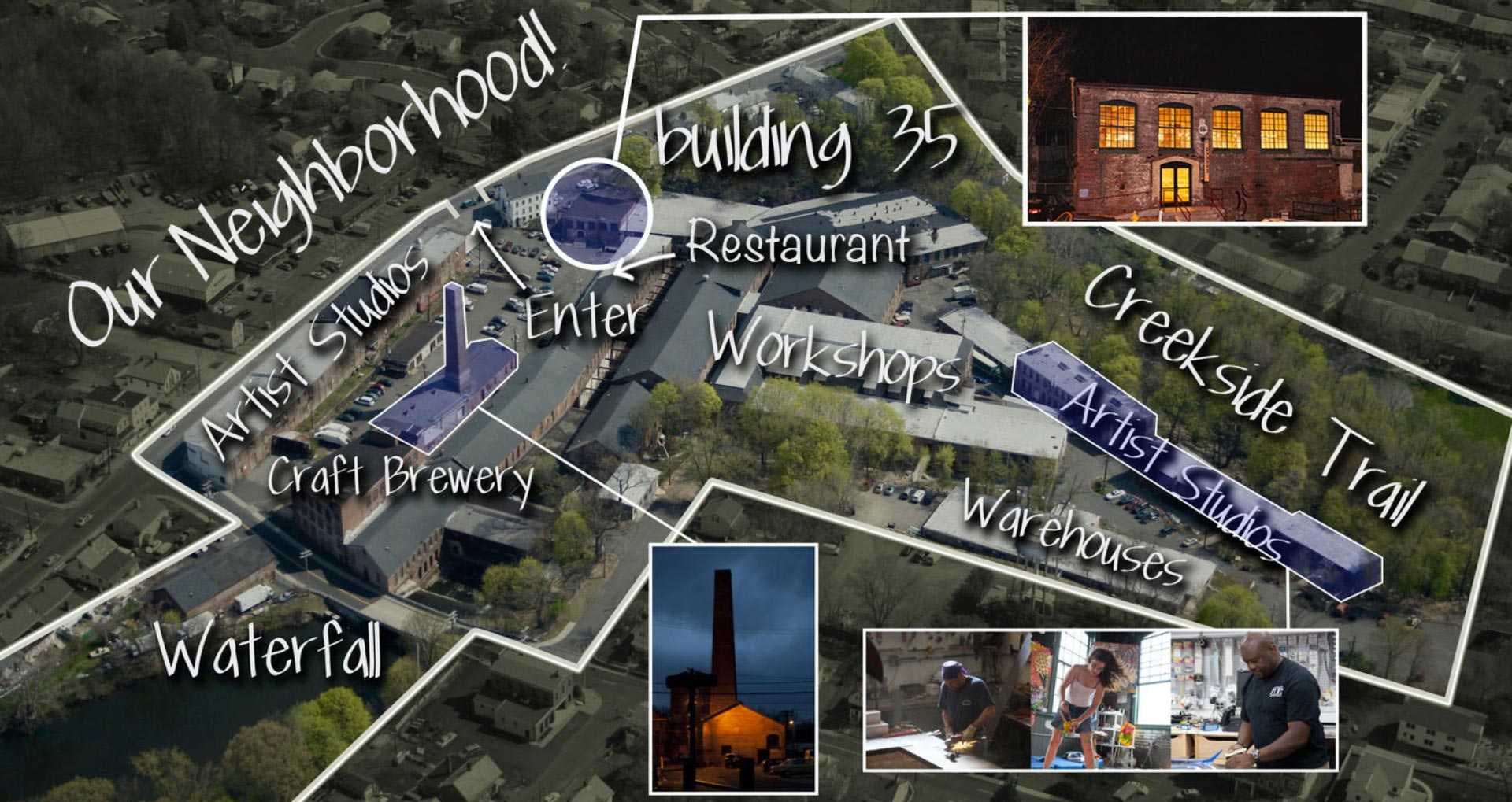 CULTURE
|

COMMERCE

|

COMMUNITY
We – the businesses at the Garnerville Arts & Industrial Center — are a Village. Not a Museum Village, static and preserved for posterity of days gone by, but functional and pertinent to today's economy and needs.
We preserve the arts and craftsmanship of a bygone era that are just not attainable in this big-box world, still holding to tradition and yet evolving with the world to suit modern lifestyles and advances in technology. Garnerville Arts & Industrial Center tenants are creative in their fields. We have our painters, sculptors, blacksmiths, contractors, carpenters, furniture makers, landscapers, soap makers, set designers, jewelry makers, yarn makers, photographers, musicians, and more.
People who gravitate here soon come to realize that we are more than a bunch of tenants in an industrial park. What makes the Garnerville Arts & Industrial Center unique is that we care for our neighbors. We know what they are doing and what they may be going through personally and professionally. Someone is always eager to lend a helping hand and real bonds are formed beyond the working environment.
This truly is a community center – and that sense of belonging extends beyond the complex and into the neighborhood of area residents and businesses. This is due in no small part to the efforts of the owners and board members of the Garnerville Arts & Industrial Center, who foster and nurture this creativity and camaraderie through their tireless work to promote shows, events and festivals for the general public. Every tenant is invited to participate with the Center's leadership and staff as they continue the unwavering work to preserve, but still upgrade, our beautiful historical environment.
– John Burak, In Memoriam
ICO DESIGN GROUP
Interior Design/Brand Image Firm
"I've been at the Garnerville Arts & Industrial Center since 2012 and I couldn't be happier.  The historic beauty of this property and the kind and caring staff make being here a tremendous part of my success as a company.  Everyone that walks into my glorious space goes crazy over the exposed beams and rustic wood floors.  The beautiful huge windows and view of the babbling brook.  I couldn't ask for a better space and a place to call my work home."
Shany Kaufman
STONY POINT TECHNOLOGY, LLC
Computer/Technology
"Since moving our business into the GARNER Historic District in May 2022, the office personnel  and maintenance team has been more than helpful and accommodating. The complex is an eclectic mix of industries, artisans as well as many craftsmen. The history and layout make this a fun place to be and they have a Tap room and restaurant! If  this is your vibe, this is the place to be."
Michelle Bader
Randy Bader
Anthony Rosa Modern
Online Retailer of 20th C. Modern/Industrial Design
"I am going on my 9th year in the Garnerville Arts & Industrial Center and have grown from my original space in the complex into a larger one during my tenancy. As a history buff I enjoy the architecture and the local industrial back story.  My online retail shop of 20th Century and industrial design is well suited to the 19th century setting and makes for a productive work environment."
Anthony Rosa
Mary J D'Urso Photography
Photography Studio
"I have been a tenant in the Garnerville Arts & Industrial Center since 2018. My experience has always been a positive one.  Should any issues arise the staff has always been prompt and efficient.  Everyone is always professional and a pleasure to work with.  I am always proud to bring my clients in for a shoot.  The nostalgia of the grounds is something I love to share with my clients.  I feel very fortunate to be a tenant here at GARNER."
IDEAL CUSTOM CABINETS
Cabinetmaker
"Our clients love the scenery, the water and the brick look of the building.  The running stream is beautiful.  In the beginning I was unsure but then fell in love with being here.  Received good compliments.  Most of my customers say it's a place to get married.  Night life is really nice as well.  The Management has been wonderful and always helpful."
Haim Mishli
O'KANE ENTERPRISES, LTD.
Contractors
"O'Kane Enterprises has been a tenant at Garnerville Arts & Industrial Center since 2004. We enjoy the 'bygone era' architecture of the complex, along with the walking paths by the stream, which are good for a lunchtime walk. The area is a great work environment. We also appreciate the gated security in the evenings and on weekends."
Dan O'Kane II
S&A Industries / Karate Depot
Wholesale/Distributors
"We've been in the Garnerville Arts and Industrial Center for over a decade and are very happy here. The unique environment is stimulating, our fellow tenants are interesting and the support staff is consistently excellent."
Aaron Rubin
CHARM 14 INC.
Wholesale/Distributor – Former Tenant
"We have been a tenant at the Garnerville Arts & Industrial Center for over a decade. Our company has enjoyed its expansion in this complex and has the peace of mind that our landlord cares about our business and its growth. The rental rates are very reasonable and the employees of the complex are consistently helpful with any needs that may arise. I look forward to growing my company here for many years to come."
Nick Guerra, In Memoriam 1966-2020
Capital Scenic, Inc
Theatrical/Commercial Scene Shop – Former Tenant
When we moved into Building #3C 2nd floor in 1996 as a fledgling corporation, we were nervous about growing. Garnerville Arts & Industrial Center has always been supportive in this endeavor, and has grown along with us. The Center continually re-invests in the facility and it is now substantially upgraded. Among the many businesses in the complex there is a great sense of community and sharing, and this camaraderie is fostered by the management and staff of the Garnerville Arts & Industrial Center. Throughout our time here, they have worked with us through difficult times and have met our needs when needed to move up to the next level.
Owner Retired

Stephen Downes Studio
Stone Carving – Former Tenant
I've been a professional artist for over thirty years. I moved my studio to the Garnerville Arts & Industrial Center from New York City about two years ago and it has been a very pleasant, positive experience.
Not only do I have creative support from other artists in the complex but I also utilize the expert fabrication resources that many of the businesses here supply. Specifically, I have been able to rely on the expertise and support of the incredible wood working skills of Richard Johnson of R. J. Originals, Mike Tito's old world craftsmanship and Capital Scenic's ability to fabricate anything you might dream up.
If you are a serious artist and want a place that will let your creative spirit fly I recommend the Garnerville Arts & Industrial Center. It has been very beneficial to all my artistic endeavors and a boon to my career.
Relocated out of state