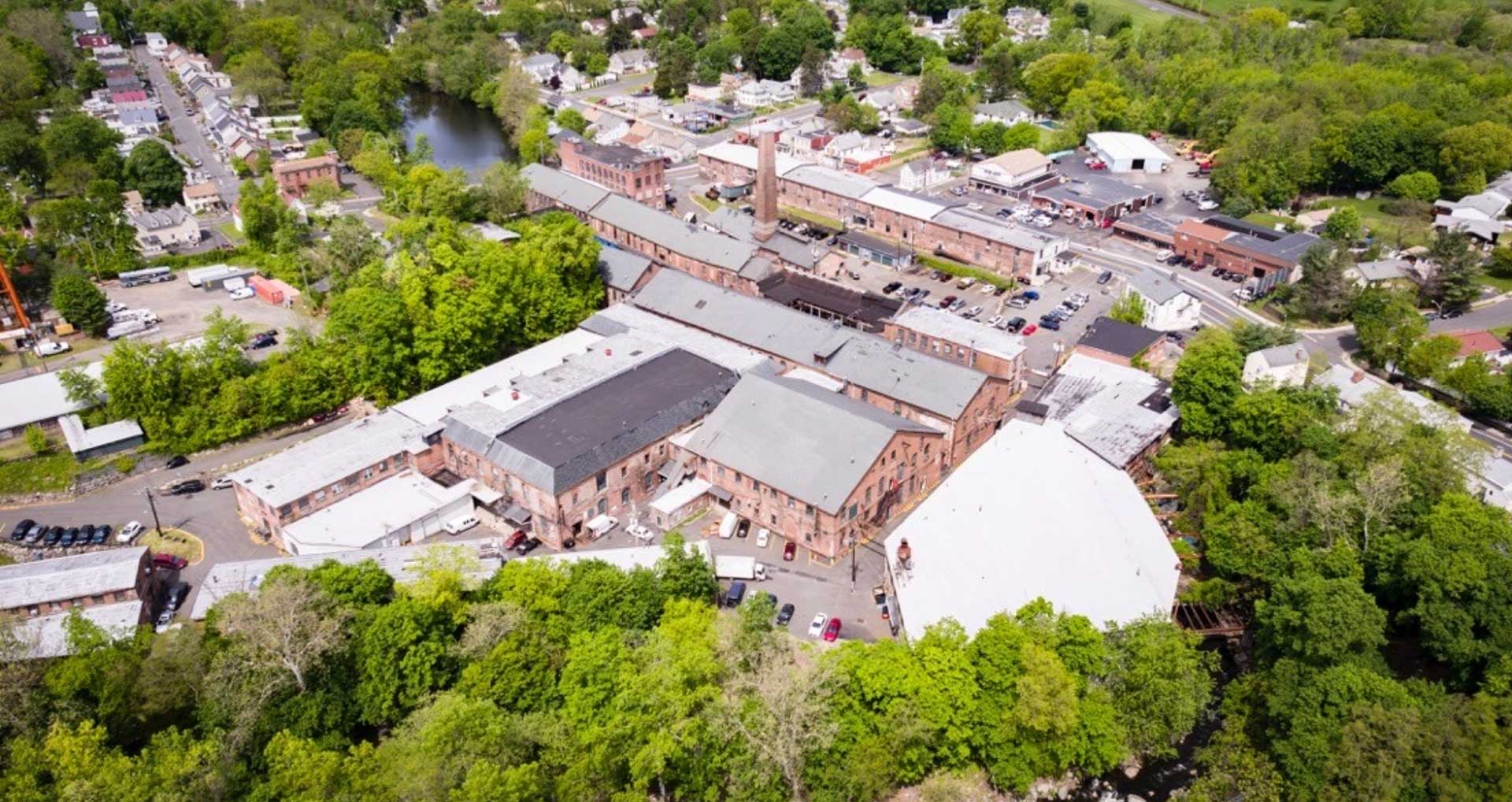 CULTURE
|

COMMERCE

|

COMMUNITY
The GARNER Historic District Team
The Garnerville Holding Company, Inc. was formed in 1934 after the Rockland Print Works had closed during the Great Depression. A group of business owners in the community, seeking to put out-of-work residents back to work, formed the Garnerville Holding Company by pooling their funds and obtaining a matching grant from President Franklin Delano Roosevelt's Reconstruction Finance Corporation. The Holding Company coaxed textile manufacturing companies back to the site by offering free rent; the companies only had to pay for their steam-driven power which was generated on site. Ninety years later, the site is operated by 3rd and 4th generation descendants of some of the original shareholders of the Garnerville Holding Company, along with other talented directors and managers who bring their professional expertise and vision to transform this nearly 200-year-old textile mill into a 21st century regional destination serving commerce, culture and community.
Robin E. Rosenberg
Robin E. Rosenberg serves as President and Director of the GARNER Historic District of New York, succeeding her father Robert, and her grandfather Louis, a director and original investor in the company. Prior to becoming President in 1998, Ms. Rosenberg served the company as a director for eight years. During this time, Ms. Rosenberg envisioned a new future for the 19th century former textile mill as an arts and industrial center and oversaw the development of artist studio spaces to complement the existing light industrial tenancies. The success of this venture led to the thriving and creative mixed- use community that exists today and the preservation of this historic gem. Prior to joining the company full-time in 2002, Ms. Rosenberg, an attorney, practiced environmental, land use and general commercial litigation with the Manhattan law firm of Sive, Paget & Riesel, P.C., where she was a partner. Ms. Rosenberg also formerly served as a commercial mediator for the United States District Courts. Ms. Rosenberg received her B.A. with honors from Brandeis University and her J.D. degree from Hofstra University School of Law, where she served as an Editor of the Law Review. Ms. Rosenberg developed and serves as President of GARNER Arts Center, a not-for-profit organization which promotes the visual, performing and educational arts within the GARNER Historic District, including complex-wide arts and cultural festivals.
Ms. Rosenberg also serves as a Member of the New York State Mid-Hudson Regional Economic Development Council, having been appointed by then Lieutenant Governor, now New York State Governor Kathleen Hochul. Additionally, Ms. Rosenberg is a Director of the Rockland Business Association, serving as co-chair of its Women's Leadership Council for many years. Ms. Rosenberg has served on numerous other boards and committees, including as past Vice Chair of the United Way of Rockland County, a past Director of the Arts Council of Rockland, and past President of the Greater Haverstraw Chamber of Commerce and North Rockland Chamber of Commerce. Ms. Rosenberg has presented at the Palisades Institute of Dominican College, Leadership Rockland and Orange & Rockland Utilities' Small Business Conference, and as a guest lecturer at St. Thomas Aquinas College. Ms. Rosenberg is the recipient of numerous arts, civic and business awards, including Rockland Business Association's Pinnacle Award for Outstanding Achievement by a Woman in Business; Rockland Economic Development Corporation's Entrepreneur of the Year award and its Economic Development Award; Orange & Rockland Utilities' Partner in Growth Award; the Historic Society of Rockland County's Historic Preservation Merit Award; the Rockland County Legislature's Pride of Rockland Award; and the Rockland County Executive's Supporter of the Arts Award, among others.
Donald Brenner, P.E., LL.B
Donald Brenner, P.E., LL.B. is both a licensed professional engineer and an attorney, having received his Bachelor's Degree and Master's Degrees in Civil Engineering from New York University and his Juris Doctor Degree from Brooklyn Law School. Mr. Brenner has served as a Director for the Garnerville Arts & Industrial Center since 1990. Until 1989, Mr. Brenner worked for the Town of Orangetown for almost 30 years, of which the majority of the time he was Executive Director of the Department of Public Works, which included Highways, Sewers, Parks, Recreation, and Building Maintenance. Since then, Mr. Brenner has practiced law and engineering in Tappan, New York, and has held membership in multiple associations, including the American Law Association, New York State Bar Association, Rockland County Bar Association, American Society of Civil Engineers, National Society of Professional Engineers, New York State Society of Professional Engineers, Soil Conservation Society of America, and Water Pollution Control Association. Mr. Brenner has been instrumental into bringing Home Depot, Lowe's, Lidl, computer storage facilities, and hundreds of senior development projects into Rockland County. With a strong focus on community, Mr. Brenner has graciously given his time and expertise to the South Orangetown Ambulance Corps, Pearl River Fire Department, Venture, Loeb House, Rotary Club of Pearl River as President and Rotary Scholarship Foundation as Trustee, and to numerous churches and temples in Orangetown.
Furthermore, Mr. Brenner created and funded individual education scholarships to Pearl River High School, South Orangetown High School, and the Rotary Club of Pearl River. In addition to being the recipient of such awards as the "Paul Harris Award," "Meals on Wheels Award," and the "Lawyers Trust Fund Award," Mr. Brenner was honored by Israeli Bonds, as "Lawyer of the Year" and "Man of the Year."
Mort Korn
Mort Korn has worked in the film and television business for over forty years. He does lighting and camera work on movies, television shows, commercials and music videos. He has worked on Saturday Night Live as the key grip for the film unit since 1996. Other recent work includes music videos for Beyonce and Justin Timberlake and commercials for Bank of America, Lancôme and L'Oreal. He has also directed, edited and photographed industrial and fund raising films for clients such as the American Cancer Society, Siemens, TIAA-CREEF, WISE Services and the Hudson River Parks Trust. His years in the film business have made him use to working collaboratively to solve problems and meet tight schedules.
In addition, Mort is a photographer. He has exhibited at the Finklestein Library, The Hudson House and The New City Library, where he is part of a permanent collection of local artists. He won honorable mention at a juried exhibit at the Hopper House.
Mort Korn's family has a long connection to the Garnerville Holding Company and the Haverstraw community.
The Korn family arrived in Haverstraw in the late 1890's, part of its community of Jewish merchants and business people. His father worked in the complex in his youth and for many years served on the Garnerville Holding Company board. Mort has been a member of the board since 2007.
Ronnee Lipman
Ronnee Lipman holds a BA in Art History from the University of Rochester and an MS in Education from Syracuse University. She taught English, Ancient and Medieval History, and math at the Elisabeth Morrow School in Englewood, NJ for 35 years. She also chaired the English Department and led the sixth grade team. Ronnee was married to Larry Lipman, a former director who had been associated with the Garnerville Arts & Industrial Center for more than 40 years and whose grandfather, uncle and father were formerly and serially President and CEO. Through her marriage to Larry for more than 50 years, Ronnee became quite knowledgeable about the company and now succeeds him on the board. Ronnee, formerly of Glen Rock, N.J., is now retired and living in Wellington, Florida, where she plays golf, bridge, and bocce and serves on the 9 hole golf, Brandeis, and Wycliffe Charities boards. She has two grown children and three grandchildren.
David Wemmer, CPA
David Wemmer, CPA was born and raised in Toledo, Ohio originally attending the University of Toledo as a music education major. Leaving college in 1975 he enlisted in the U.S. Army and spent the following six years as a member of the U.S. Military Academy Band at West Point. During his time in the service he attended college, taking business courses resulting in a Bachelor of Science degree in Accounting from St.Thomas Aquinas College in 1982 and spent his professional career as an accountant/auditor with Korn, Rosenbaum, Phillips & Jauntig, CPA's, becoming a partner with the firm in 1989. Having retired in 2017, he and his wife of 46 years, Patricia, keep active with traveling, bicycling, gardening and spending time with their grandson.
Operations Manager
Miles Dunsmoor began working for Garnerville Arts & Industrial Center as its Operation Manager in November 2009. Mr. Dunsmoor received his Bachelors of Science degree from Rensselaer Polytechnic Institute in 2008 where he majored in Business Management and Technology. As Operations Manager, Mr. Dunsmoor is responsible for directing the day-to-day operations of the company, including leasing, hiring and supervising contractors, permitting, maintaining tenant and vendor relations, and managing the complex's maintenance and security crews. Mr. Dunsmoor also maintains a New York State Class C Water Operator License. Mr. Dunsmoor serves on the Minisceongo Creek Watershed Alliance and is an Assistant Den Leader for BSA Troop 19.
Office Manager
Jennifer Veras-Lopez began working at the Garnerville Arts & Industrial Center as a part-time administrative assistant in December 2002 while working her way through college. After receiving her Associate's degree in Occupational Therapy from Rockland Community College in 2005, Ms. Lopez chose to return to the Garnerville Arts & Industrial Center to become its Office Manager. Ms. Lopez assists with tenant and employee relations, and performs administrative tasks associated with operating the complex. For 16 years and counting, Ms. Lopez has helped to organize the seminal GARNER Arts Festival at the Garnerville Arts & Industrial Center.
Jennifer has been a resident of the North Rockland community since birth and spent many summers playing in the Minisceongo Creek, which winds its way through the Garnerville Arts & Industrial Center and once powered its textile mills. Ms. Lopez is the proud mother of three children.